HELIOS 3 ULTRAZOOM HELIOS 3-3 ULTRAZOOM
Tactical police flashlight with 3W LED chip CREE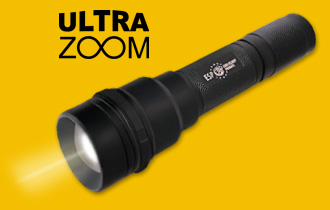 This version of flashlight HELIOS is fitted with a special lens that allows re-focusing between narrow and wide light beam. When narrow cone of light is used, it illuminates a surface with diameter of only 60 cm at a distance of 10 m! The flashlight can light an object with a sharp beam over a distance even of approx. 300 meters.
Remaining parameters are identical with model HELIOS 3 or HELIOS 3-3.